Cloudforest Expert
Posts: 148
Joined: Wed Feb 16, 2011 12:01 pm
Location: Santa Cruz
Climate Zone: Sunset 17
So my wife recently blew my mind with this adaptation of our take on Alice Water's Scone recipe that has been a constant in our kitchen lately.
Normally we use coconut milk as a substitute for cream in this recipe , this time we will substitute Cherimoya puree for cream or coconut.
"Preheat oven to 400
Measure & mix in a large bowl
2 cups unbleached whole wheat pastry flour
1/4 to 1/2 cup of sugar
11/2 teaspoon's baking powder
1/2 teaspoon salt
Spices: Cinnamon & nutmeg to taste
Stir in 1 cup cherimoya puree & vanilla to taste
Mix until the dough just starts to come together. knead briefly on a floured surface. pat it into a circle and cut wedges. sprinkle lemon zest and sugar on top. place the wedges 1 inch apart on parchment paper or coconut oil cooking surface, The Cherimoya version will finish 13-15 minutes. Coconut milk is 15-17 minutes.
A very simple & quick recipe that takes many adaptations. We often add almonds, walnuts, apricots, currants, cheese and take them a different direction.
---
Site Admin
Posts: 3533
Joined: Thu Nov 18, 2010 8:49 pm
Location: Hanalei Bay, HI & Fallbrook, CA
Climate Zone: 12b/H2 & 10b/S23
I wonder what it is in cherimoyas that makes them act as a binding agent.
Can you post a picture of the cherimoya in the vita mixer that you posted on my wall?
Tropical gardening in both Kaua'i windward Sunset H2/USDA 12b and Fallbrook Sunset 23/USDA 10b.
---
Cloudforest Expert
Posts: 148
Joined: Wed Feb 16, 2011 12:01 pm
Location: Santa Cruz
Climate Zone: Sunset 17
Here it is. I love the vita mix because it is a 3hp blender that breaks things down to the cellular level so you can make the most of it. I feel compelled to make nut butters and nut milks all the time with this machine because of how easy it makes it.
Please note Vita mixers already cost around $500 for the consumer grade one at costco or elsewhere, this is where vita mix makes their money. If you are going to drop that much money you should know there is a "professional" version that is stronger , and costs more to produce so their profit margin is much less and hence you have to search out the "professional" vita mix. (tangent done)
Cuisinart has been our technique for the cherimoya pulp because it seperates pulp from seed without pureeing the seed. Whereas the vita mix would puree anything you feed it. So we've put in the vita mix after de-seeding.
This photo is just cherimoya pulp and a splash of water left in the fridge and fully congealed. Not a necessary step for the scones, we just had extra and made more the next day.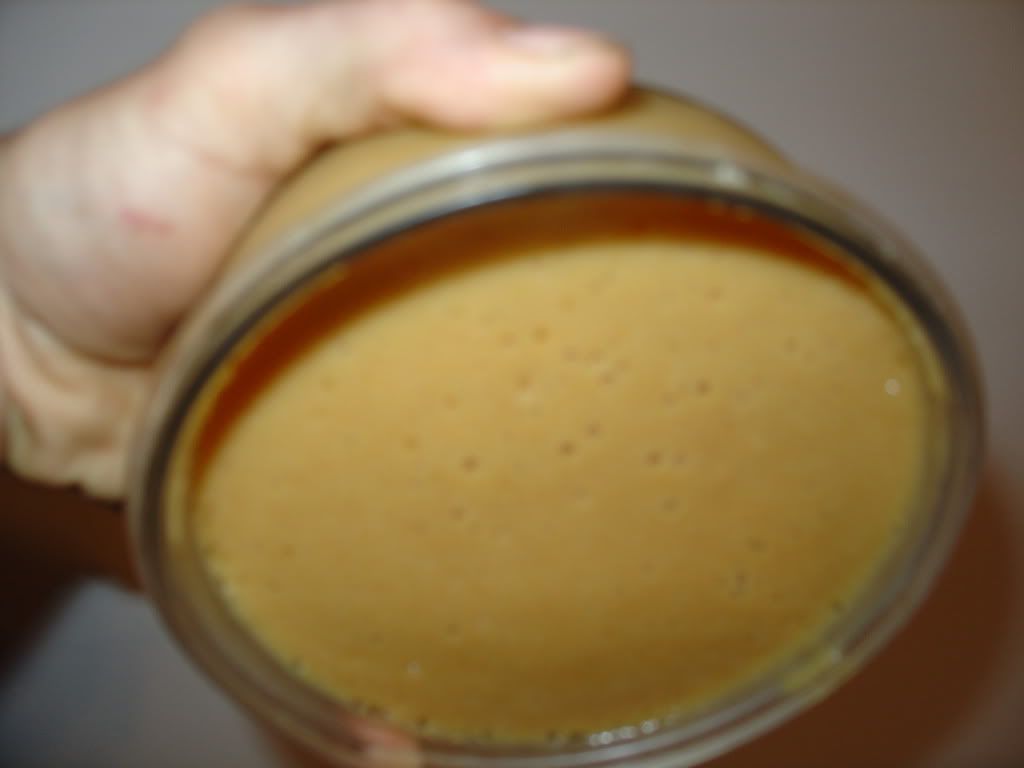 ---
---
Welcome Guest
Please register or login if you would like to post.
Getting Around the Cafe