Cloudforest Expert
Posts: 259
Joined: Tue Dec 14, 2010 9:30 am
Location: Southern Oregon Coast
Climate Zone: Sunset zone 5, USDA zone 9a
Here are a couple of new plants that I am trying out this spring. Other than what it says on the tags they came with I have no knowledge of how they want to be cultivated or of how they might do under Pacific Northwest conditions, any advice? I would like to put the magnolia someplace with overhead shelter from large trees but wonder how much shade it can take and still bloom well.
---
Cloudforest Expert
Posts: 215
Joined: Sun Nov 28, 2010 4:06 pm
Location: The Quimper Peninsula
Climate Zone: 8b-9a wannabe
The Podocarpus is exciting. Seems like it would be totally hardy in my location.
---
Cloudforest Expert
Posts: 1356
Joined: Fri Nov 26, 2010 10:34 pm
Climate Zone: 8
Looks like nice choices Dan for your climate. Regarding Podocarpus I only tried P. macrophylla and P. alpine. P. alpine expired after some enthusiastic weeding by my wife (I don't blame her, I do this myself all the time).
P. macrophylla is O.K. but not perfect. The top was broken by heavy snow a couple of years back, which why it is staked now, the deer damages some of the lower branches and there is a periodic die back of some foliage - probably nothing to do with frost, but I can't figure that one out.
In any case, snow seems to be the major problem with mine.
I have no advise on Magnolia lanuginosa. That one is clearly more suited to your area than mine.
BTW, that dead looking thing to the right of Podocarpus is Chitalpa. It does not flush out until the end of May or in June in these parts. But given enough sun, it blooms beautifully in August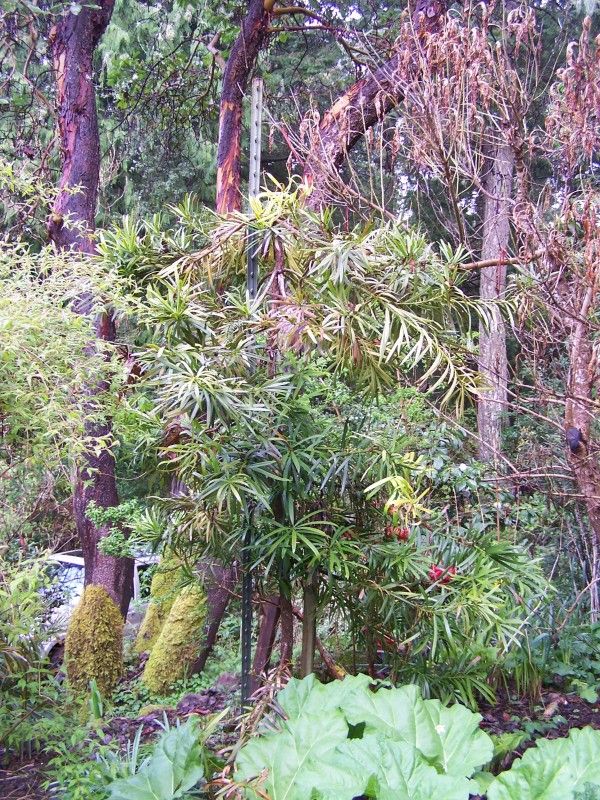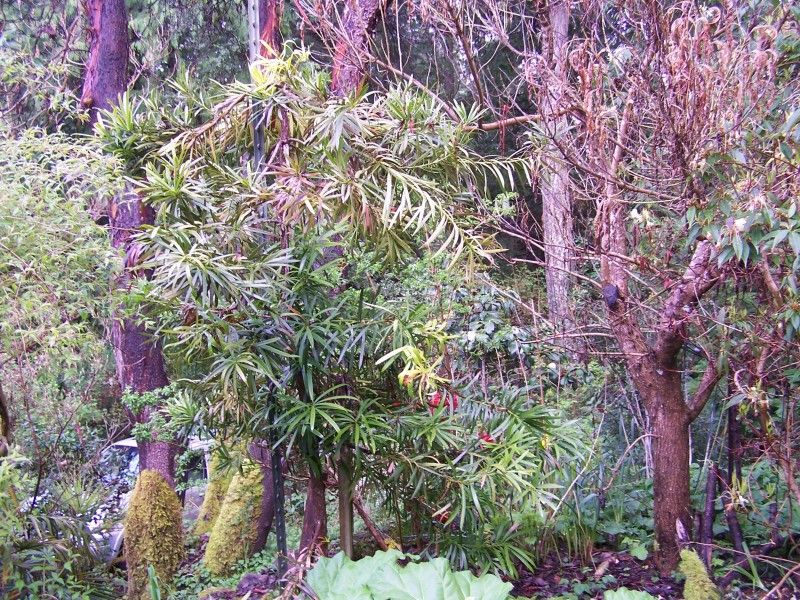 ---
Cloudforest Expert
Posts: 896
Joined: Fri Nov 26, 2010 12:09 am
Location: bandon, oregon
Climate Zone: USDA zone 9a/Sunset zone 5
the podocarpus has done just fine for me growing in the ground for several years with no damage so it should be good for you as well. have no knowledge of the magnolia so i can do is hope that it will prove satisfactory for you.
---
---
Welcome Guest
Please register or login if you would like to post.
Getting Around the Cafe