Cloudforest Expert
Posts: 183
Joined: Thu Mar 31, 2011 7:49 am
Climate Zone: USDA 8 in Amity Oregon
Hi Vlad,
An engineer, wow! The cloudforest is almost like a secret society, almost nobody gives any clues here as to who they really are or what they do. So, naturally, I am attuned to ferreting this out (<grin>). I myself have degrees in Electrical Engineering, and Computer Science, but don't much do that stuff anymore...
And you are right, this stuff get real complicated real fast. What The Sonar Dudes and I (at the time) mostly did was interpret sonar data to determine the water depth on top of any given piece of terrain (so that Alaska tankers and Italian cruise ships would not run aground on undersea rocks...). So, I do indeed know this is extremely tricky business (in fact, I myself made a minor global inprovement in the datasets by showing that the projection of the Earth's surface being used was not being really accurately modeled and displayed). In fact, "sea level" is so complex, there is not just one "sea level" but many! Each country can (and the more important ones do) make their own standard up. Japan even has seven, if I remember correctly!
And then throw things on top of it like ocean warming, and ice melt, and you can really start to rock and roll! As usual, a go-to place is wikipedia:
http://en.wikipedia.org/wiki/Current_sea_level_rise
You and I may have to agree to disagree, but in so doing some valid things can still be agreed on, maybe?
First, let's not get confused - anthropogenic global warming only really started in the 1970's. There is simply not much reason to think we can see any man-made effects, on the current sitiuation, going back much further than this. And it is all happening so fast it is very easy to poo poo the small changes seen to date, and to make too much of the fact of the excuse it is really "natural variation" that is causing what we see.
Antarctic ice is melting. Nodody I know thinks otherwise (sorry, I don't have access to Science magazine). The graph I presented is based on GRACE data, and is from a peer reviewed juried paper in a respected hard core science journal, that has received a relatively high number of citations. Check out the references. There can certainly be differences of opinion as to how fast things are really proceeding, but I am certainly willing to accept an estimate of a 0.5 - 1% a year loss in Antarctic ice, as is within the range you are suggesting.
That's HUGE!
Sea levels are rising. Contrary to what you seem to think, I think the author (and The New York Times) fully realizes that there hasn't been much of an effect so far. I mean, look at the first graph that is presented:
http://thinkprogress.org/romm/2010/11/14/207032/sea-level-rise-planning-coastal-infrastructure/?mobile=nc
(Source given again, just to make sure it is clear)
The fact that the rise is so far relatively trival is of course seized on by Denialists, but nobody I know is saying it has been dramatic so far.
But, can we agree the future implications show we are involved in a serious large scale experiement with our whole world? Or no?
I don't know where your graph of sea level vs time comes from, as you don't cite a source. But I dunno, the number I believe is in some form close but radically different. What I believe and what is commonly accepted:
"a satellite-measured average rate of about 3.3 ± 0.4 mm per year from 1993 to 2009"
(from wikipedia link cited above)
The number is still 3.3, but it is millimeters a year. Agian, as you say, don't let the size of the number fool you! At even a past and current 3 mm a year, and the projected climate changes, you can pretty much kiss places like New Orleans good-by within our lifetime,
Note to audience: along with that trip to see the polar bears before they are gone, add in a trip to Key West, New Orleans, and Tuvalu before they are gone. No great urgency, just take your children sometime before you die. And hey! By doing so you add just a tinch more to global warming! Good times are then had by all, and my [future] mango trees will thank you (<grin>)!
.
---
Cloudforest Expert
Posts: 183
Joined: Thu Mar 31, 2011 7:49 am
Climate Zone: USDA 8 in Amity Oregon
Vlad votes for planting Jubaea!
You were indeed involved in the discussion of that tree! Feel old? But at least your memory is still good!
I copied that picture out of a post of The Owner of the Board. Since he seems to be seldom seen anymore on this portion of the board (Dang! Another sign of global warming <grin>), if you want to know where it came from I would post it and ask on the real cloudforest forum. Either he or other old timers over there (DavidLJ) might know...
Best of luck!
DavidInAmity
.
---
Cloudforest Expert
Posts: 1356
Joined: Fri Nov 26, 2010 10:34 pm
Climate Zone: 8
David, it would be nice if we could get back some of the Swiss people who used to post here.
The data regarding the sea levels were ENVISAT satellite measuremens:
http://www.aviso.oceanobs.com/en/missio ... index.html
They applied an adjustment to the data (I believe to compensate for the continent rise after the last glaciation). I (and many others I am sure) are still mulling that one over. One of those things that could change in the future. But you can see no dramatic increase in the rise, which, I believe, has been fairly even since the end of the little ice age in the 19th century.
http://www.aviso.oceanobs.com/en/news/o ... sea-level/
---
Cloudforest Expert
Posts: 1356
Joined: Fri Nov 26, 2010 10:34 pm
Climate Zone: 8
Judith Curry, an expert in this field, who tends to be open to information from all sides on this issue, had an article (part 1) on sea level changes that you might find interesting. More technical than the usual babble but well worth the time to read.
http://judithcurry.com/2011/07/12/histo ... to-romans/
I must confess I did not quite finish reading the comments yet.
The post glacial sea level rise looks pretty humbling in my opinion and here is the summary of the part one if the whole thing is too long for you:
"...there are many studies that point to a picture of relatively static sea levels after the initial Holocene rise. These then show that some 3000 years ago there was a further inundation (think Lyonesse in Cornwall) and in early Roman times levels were somewhere around current levels. Levels then rose significantly through the Roman period peaking around the 700 AD Byzantine period at levels higher than today, which concludes at this period of study for Part 1."
Can't wait for the next parts.
---
Cloudforest Expert
Posts: 183
Joined: Thu Mar 31, 2011 7:49 am
Climate Zone: USDA 8 in Amity Oregon
Vlad,
Thanks for the link on where you got the sea level data:
Unfortunately, when I went there, I could not find any hard data, only mission statement type stuff.
However, I did find the exact graph you displayed, on the internet. Look at the link names, and then go there:
http://www.real-science.com/junk-science-antarctica
http://www.real-science.com/cooking-sea-level-data
I'm sorry, no offense, but I had to laugh (as in lmao). Probably your worst nightmare! This guy looks like a Junk Scientist creating his own JunkFood. The second link is the worst. Apparently he thinks of himself as "The Real Scientist" (to really lyao look at his "about" page for credentials) who with absolutely no justification given proceeds to do his own cooking of data to make it say what he wants it to say.
Too funny.
Of course, this isn't to say if the graph you presented is bad, but on the other hand I have no idea if he cooked that data too, as that exact graph appeared no where else in my search.
Aiiii. About time to give up on this (quit while I still laughing, so to speak).
However, I still stand by my two predictions, made earlier, that are easy to track. So, tell you what. Come the first year in the next coming years that the ENSO index starts out positive Jan 1, I will start a thread that does a monthly post tracking the Artic Sea Ice data (basically just reposting the NSIDC data).
Be kind of a fun thing to do. Especially since it seems that especially in winter there is more discussion of "weather" on this board than plants...
We shall see what that proxy for global warming shows, when we get such a January (I would be shocked if it is not Jan 2013 or at the very worst Jan 2014).
Anyway, thanks, it's been fun.
David Lawrence
---
Cloudforest Expert
Posts: 1207
Joined: Fri Nov 26, 2010 8:29 am
Climate Zone: 8b
David, that graph on Arctic feedbacks is one of the best I've seen too (there was a typo and the last name is actually Beckwith). This one is from the Copenhagen Diagnosis on some potential tipping points includes some forests:
Attachments

Tipping Points.png (483.05 KiB) Viewed 516 times
---
Cloudforest Expert
Posts: 1207
Joined: Fri Nov 26, 2010 8:29 am
Climate Zone: 8b
What I was trying to say is that even though the climate has changed and will continue to change, we
here
can still experience very cold temps; it just becomes less likely the warmer the planet becomes. I see this as a crucial point because it is striking how many people point to global cooling when there is a cold stretch of weather. The notion that every single year the temperatures should be warmer than the previous year or that very cold weather points to global cooling is silly. You have to look at trends over many decades when talking about climate. The spatial pattern of warming varies -
generally
greater over land than oceans and more in the northern hemisphere than the southern hemisphere, etc. But the system is complex and changes bring about more changes, some of which could possibly include regional cooling in some areas. See, for example:
http://news.sciencemag.org/sciencenow/2 ... winte.html
Sea level rise and storm surge to date is not insignificant and is already impacting many areas. Some people in the Arctic, for example, have lost their homes from coastal erosion. I've read that NYT article before and think it does a great (and balanced) job at looking at this issue. Regarding, sea level rise dropping (sorry, I don't have time to find a better source):
http://blogs.discovermagazine.com/badas ... mporarily/
According to Rahmstorf, 20th century sea level rise, like temperature, has not been steady. The rate increases before 1940 and then again after 1980.
http://www.pik-potsdam.de/~stefan/Publi ... e_2007.pdf
In my view, uncertainty in many areas of this issue is not a good enough reason not to do anything. We don't approach other important risks this way (most of us have fire insurance, for example, even though there is uncertainty regarding whether or not there will be a fire). When I read about changes already well underway in the arctic, and the impact on the peoples living there and the wildlife,
already felt
, I feel sad. Some other people lick their chops over the opportunities to expand resource exploitation and look forward to the day that arctic waterways are open permanently.
I promise that I will stick to plants from now on!!
From the World in 2050 by Laurence Smith
Attachments

arctic cityscape.JPG (252.63 KiB) Viewed 515 times
---
Cloudforest Expert
Posts: 183
Joined: Thu Mar 31, 2011 7:49 am
Climate Zone: USDA 8 in Amity Oregon
Some good points!
I guees I have looked at so much data in my life, I forget how most people see it. The little ups and downs can be interesting, but it is the longer trend lines that are important.
For example, year over year September Arctic sea ice extent increased in 2008 and 2009, but that means not much. It is the trend line that is shocking.
I guess I am one of those "licking their chops" to expoit global warming, as in planting olive trees commercially in Oregon. But, I guess I think it is more important to "roll with the punches", rather than be an activist. Although we need activists too.
And I believe there is no "right climate". As Vlad's history article points out, it is believed the weather was sligtly warmer during "the Roman Optimum". So who is to say warmer is worse? It is, certainly, different; but in my mind not worse. At least not yet!
And the article about sea level change is interesting. However, it is in agreement with what I believe (that the ENSO phenomena is related to global warming, where El Nino years are going to be the warmer years). Hence why I propose the thread discussing Arctic ice melt be done in a year that starts with El Nino conditions.
I think the Arctic is going to have "remarkable" change regardless of what we can do at this point. Sad yes, but also opportunity for change, which a lot of people find hard.
And thanks Linda, for participating in this discussion! I think you are very moderate and reasonable, so you too in a small way have just contributed to spreading the awareness of the issues and the potential dangers we are taking rolling these enourmous geo-physical dice.
---
Cloudforest Expert
Posts: 1356
Joined: Fri Nov 26, 2010 10:34 pm
Climate Zone: 8
Against my better judgement, I got involved in a climate argument on a gardening forum, while fully aware, where this would ultimately lead to. A fact is presented, a wheel is being reinvented, it is then countered by (always new) projections, forecasts, fantasy or better an unverifiable fiction and the whole debate deteriorates into personal attacks. There no shortage of fiction in this world, although thanks to people such as Judith Curry the majority is increasingly being ignored. Fortunately, nobody can hide in anonymity on this Forum so this discussion (unlike the past examples) has been civil. However, I noticed the word "Denialist" and that's when I normally terminate my further participation and I notice that more people are now doing the same thing. That's good because the term was invented to denigrate and marginalize an opposing view and stifle discussion, such that there is no debate and therefore it has no place in science. Before I go any further you may want to read Matt Ridley's lecture:
http://wattsupwiththat.files.wordpress. ... heresy.pdf
Steve Goddard may not be at the top of this field but the graph on his site is indeed the actual data. It is not easy to access, it is truly buried in there, but I did it. I also wrote to the agency and hope they would offer some more user friendly access so that people who are interested in what is really happening (rather than what might, could or is possible). What is cooked is the graph taken from the Romm's site. Just because it was in the newspaper does not make it a fact. There is garbage printed in the media every day; just a couple of examples:
http://www.independent.co.uk/environmen ... 24017.html
http://www.express.co.uk/posts/view/276 ... i-ice-age-
Now I think that is funny.
NASA's Roy Spencer has a different take on the climate models but most agree that while useful, there are not to be mistaken for reality and they are not good at predicting the future ( I read it as don't use them to predict future). Certainly not with the confidence exhibited on that particular site and/or newspaper article.
http://www.drroyspencer.com/2010/07/my- ... r-dummies/
I am not afraid of a debate but every idea or thought needs good shaking (even mine) and this is best done on a site that is focused on this specific subject. I participate on some of those forums and since I usually don't hide behind fictitious id, you can engage me there if you wish. Here, like I already mentioned, we are just reinventing the wheel. You won't see me however on Real Climate, Climate Progress or Tamino's Open Mind since their proprietors censor nonconforming comments. Someone said the following about the "Open Mind" site (what a joke that name is):
"I tried commenting on the Tamino site which, in a parody of Orwell's novel '1984', is called 'Open Mind'.
I was immediately struck by the fact that none of the comments there were controversial. They always agreed with whatever brilliant article Tamino had written, beginning with such phrases as "Brilliant analysis', 'Super exposisition', 'Well done' etc. Now, being a cat, I easily vomit, and there is only such much of that twaddle that I can stomach.
I quickly found out why this is so. Any controversial or critical comments are of course censored. But it is worse than that! – if that is possible. Tamino actually edits your comments to make them say what HE wants, and then replies to the bits he thinks he might have a clever answer to!
Personally, I can't see the point of a site like that. A site where sycophantic sheep just chant "Four legs good, two legs bad". Nothing can be learned there. The only surprising thing is that some people, presumably of very low self-esteem, still bother to go there."
So be careful where you get your information from and since you have technical background, try to get to the real source not the chewed up and massaged bits and pieces by some propagandist. BTW, I don't believe Steve Goddard or Anthony Watts will do that to you (censor your comments) unless you are persistently personal or repetitious.
I won't take up your challenge since I cannot predict future and I do not gamble. Perhaps you want to read the following older, but still good, article about the arctic;
http://www.john-daly.com/polar/arctic.htm
I want make sure we are still talking mainly about the impact from the human caused emissions of carbon dioxide. For those interested, I can offer the following information, just facts:
150 ppm - the minimum concentration below which many plants may face problems to run photosynthesis and stop growing
180 ppm - the concentration during ice ages
280 ppm - the concentration during interglacials, i.e. also the pre-industrial concentration around 1750
391 ppm - the concentration today
500 ppm - the concentration around 2060-2070 (unlikely that before 2050 as they claim)
560 ppm - the concentration around 2080-2110 (the "doubled CO2" relatively to the pre-industrial values) relevant for the calculations of climate sensitivity); a concentration routinely found outdoors today
700 ppm - the concentration in an average living room
900 ppm - concentration in an average kitchen
1,270 ppm - the concentration used to double the growth of Cowpea in a famous video
1,700 ppm - the average concentration in the Cretaceous 145-65 million years ago (early mammals came, plus figs, magnolias, birds, modern sharks)
4,500 ppm - the concentration 444-416 million years ago (the Silurian dominated by corals and mosses); see other values in geological epochs
10,000 ppm - sensitive people start to feel weaker
40,000 ppm - the concentration of CO2 in the air we breath out
50,000 ppm - toxic levels at which the animals like us get weaker in hours; the value is 5 percent of the volume
180,000 ppm - the concentration of CO2 in exhausts of a healthy motor; that's 18 percent
1,000,000 ppm - pure CO2, just to make you sure what the units are
The warming induced by the increase from 391 ppm to 500 ppm is smaller (by about 20%) - because of the logarithmic law - than the warming by the same 109 ppm between 282 ppm and 391 ppm which was about 0.7 °C and pretty much unnoticeable without accurate gadgets and contrived statistical methods
If you prefer graph regarding my last point here it is: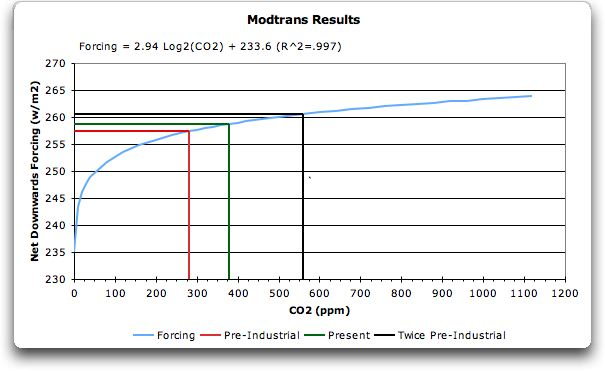 There are many unsubstantiated and ridiculous disaster claims and that's the way it has always been. Here are a couple of beauties:
http://www.vernonmorningstar.com/opinio ... 87379.html
http://www.agoracosmopolitan.com/home/F ... 01291.html
…and my favoured. The ends is nigh:
http://www.youtube.com/watch?v=-hJQ18S6 ... detailpage
BTW, I am out this thread Dave. See at the next one; this time, hopefully, to do with plants.
---
Cloudforest Expert
Posts: 183
Joined: Thu Mar 31, 2011 7:49 am
Climate Zone: USDA 8 in Amity Oregon
Ahhh, I am truly sorry I have hurt your feelings. It was entirely unintended.
I truly had no idea that Steve Goddard is a VIP to the, ahhhh, how do I say this, "people who would deny anthropogenic global warming". To me, the site that proports to be authored by him is ahhh, laughable. I have even had the though that it is a "spoof" site set up by people who, ahhh, say "We are doomed! I say doomed!". I mean, look at the site name, look at the name of the links. Look at the about page. Even the graph you presented from his site - to be found no where else, and a number for sea rise precisely one tenth that agreed upon [by most everybody else].
Anyway, I guess you are more on the "this isn't happening" side than I had thought. No big deal, except we then agree to disagree.
So, I will leave this with what I have said before:
. Prediction: all of the warmest dozen years of record, will be within the most current twenty years, for the next 50 years. In other words, new hot years will keep appearing frequently, for the years going forward from here. Further, there will be a new global "hottest year on record", within the next four years.

Prediction: as one of the results, the Artic summer sea ice will entirely dissappear sometime within the next 10 years, possibly sooner
I think I just have to get a couple of mango trees, and grow some mango fruit.

Not quite as ambitious, but based on some positive reports from cloudforesters. pineapple guavas seem to be a very safe thing to try.

A little bit more edgy, loquat trees might also be in the picture (the owner of this board told me several years ago that he thought loquat trees should be tried here).

And, perhaps most ambitious of all, I -might- just try some heirloom tomatoes...

. Come the first year in the next coming years that the ENSO index starts out positive Jan 1, I will start a thread that does a monthly post tracking the Artic Sea Ice data (basically just reposting the NSIDC data).

.
---
---
Welcome Guest
Please register or login if you would like to post.
Getting Around the Cafe